Ordering Pins
Types of Pins
Diestruck Custom Keychains - Custom Die Struck Keychains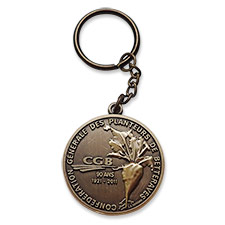 Custom die struck metal keychains are durable promotional keychains that increase exposure for your business through daily use by recipients. Your metal diestruck keychain will likely be seen everyday by the poeple that carry them.
Request Your Free Design
Each die struck keychain is designed and manufactured to your specifications. Die struck custom keychains promote your business and are very durable.
Custom diestruck keychains can be used for a variety of promotional needs and have high-perceived value. Use a custom die struck promotional keychain that will be used for many years.
Custom Die Struck Metal, with No Color, Keychains
Custom die struck keychains are the most durable
Custom keychains are made of die struck metal
High quality finish & appearance - view plating options
Recessed & raised areas are metal
PVarious plating options are available
Complex, custom die struck shapes available
Very durable with textured surface you can feel
All keychains come with a standard chain and key ring
A mold fee will apply for double sided keychains
Custom Die Struck Keychain Pricing
Prices Effective:
HINT: Rotate phone to see more quantities, or view on computer for full chart.