Ordering Pins
Types of Pins
Silicone Wristbands, Bracelets, & Awareness Bands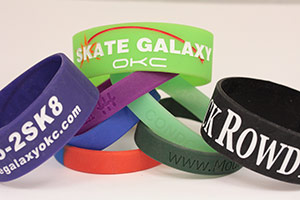 Silicone wristbands can be customized with your message or logo. A popular and inexpensive way to promote your organization, cause or event. Raise awareness with silicone bracelets that will last and be worn for years.
Request Your Free Design
Debossed Wristbands: These appear as if the text or logo has been cut into the wristband. Enamel coloring may be added to recessed silicone areas if desired. Most popular & durable type. The yellow Livestrong bracelets are this type of silicone wristband.
Embossed Wristbands: When made this way, these appear as if the design is actually raised off the surface of the silicone wristband. A bit less detail is possible this way (versus debossed silicone wrist bands), but your message or logo will be raised.
Printed Wristbands: Custom screenprinted designs may be added to silicone wristbands. The most detail may be added using this method. The silicone bracelet type is the least durable of the three styles and design may wear off with extended wear.
Custom Silicone Wristbands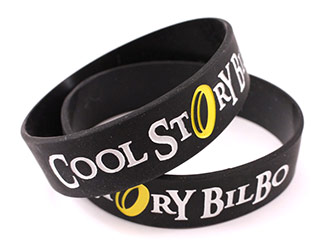 Best: Molded debossed & embossed wristbands, not laser-made
Silicone wristband color may be solid or multi-colored.
Coloring may be added to recessed areas of debossed bands.
Popular promotional items, usually worn for extended periods.
Individually packaged with free regular shipping & no mold fees!
Standard diameters in large (8.00") and small (7.00") sizes.
Custom diameters, widths and thicknesses quoted upon request.
Thicknesses: Standard 1/2" (12mm), Medium 3/4" (19mm), Fatties 1"(25mm).
Custom Silicone Wristband Pricing
Prices Effective:
HINT: Rotate phone to see more quantities, or view on computer for full chart.