Ordering Pins
Types of Pins
Custom Personalized Dog Tags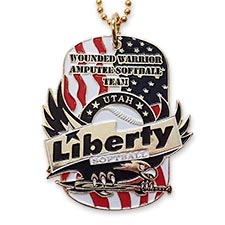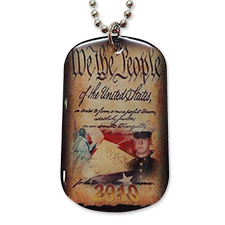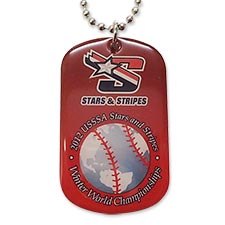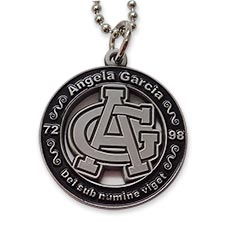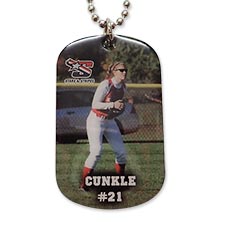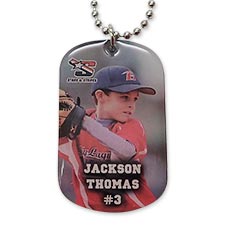 View Dog Tags Gallery
Custom dog tags are inexpensive, durable and they look great. Although the standard dogtag size is 30mm by 50mm (1.18" x 1.97"), custom dog tags may be made any size. Custom dogtags can also be made in standard or non-standard shapes. All dog tags come with a 24" ball chain.
Request Your Free Design
Dog tags are a great way to show team spirit, promote yourself, business, or event! Custom dog tags are available in Photoscreen, Soft Enamel, and Die Struck.
Photoscreen, also known as Offset Print or Photo-etched, dog tags are very versitile and ideal for complex logos or designs that incorporate gradients (color fading). To recreate a design exactly, a Photoscreen dog tag is best. This option allows a logo or design to be recreated, down to the smallest detail, without the need for fine metal lines sperating each color. Photoscreen dog tags are printed directly onto the base metal and then covered with an epoxy coating. The epoxy coating will give your dog tag a protective coating and a smooth, shiny finish.
Soft Enamel, also know as Embossed, dog tags are die-stuck and color is applied by hand. The enamel color sits below the raised metal edges of your design giving the dog tag an embossed look and feel. PMS (Pantone) color matching is available with this option.
Die Struck dog tags are just like Soft Enamel but with no color added. This option offers a clean and elegant look. Die Struck dog tags can be sand blasted, polished or antiqued for an additional effect. Multiple plating options are also available.
Custom Dog Tag Pricing
Prices Effective:
HINT: Rotate phone to see more quantities, or view on computer for full chart.