Ordering Pins
Types of Pins
Pin Trading Bags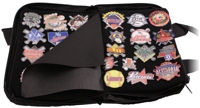 Pin bags are a great way to display, store and protect your favorite trading pins without the worry of losing a pin. Metro Pins offers a custom-designed, mid-sized, black pin bag with four zippered-pouch pages. Between every page is a soft cloth that helps to protect your pins from damage.
Each page can easily hold twelve 1.75" & 2.00" pins on each side. That's approximately 100 pins, and it's perfect for big tournaments or trading events without being TOO BIG. Trading pin bags that are too big often result in multi-year usage and unfortunate loss/trade of previous year's pins.
$15.00 each + shipping. Approximately 9" x 6" when full. Carrying handles, but no shoulder strap. Black color with 420D polyester outer shell. Order your trading pin bags today so you're ready for your next pin trading event!