Ordering Pins
Types of Pins
Glow in the Dark Enamel
Here are two images that show the daylight/night appearance of the 12 available glow-in-the-dark powders that we add to PMS enamel colors.
The final color of the PMS enamel will be impacted depending upon which glow-in-the-dark powder color we add and how much of it is added. We use our experience to determine the correct mixture, but it is a determination that is impacted depending upon who is working on it for that particular batch. This can result in hue changes from batch to batch (minor or major) and should be considered when ordering.
Because there is an element of variation that can occur between batches making the exact same thing, it may be preferable to you to order the total number of items you want the first time you order (vs ordering lesser quantities in multiple orders).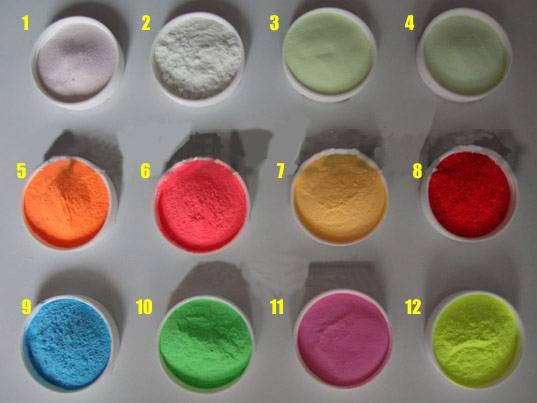 Click on the image to toggle day vs. night view
So when choosing an area for "glow-in-the-dark" treatment...
Pick the base PMS enamel color for the area.
Pick the number of the glow in the dark powder color to add.
Consider how those two colors may interact and adjust color choices accordingly.
Submit your order realizing you won't know the exact look of those areas until you see them.
Understand that if you reorder the exact same thing, there may likely be batch-to-batch variation.
Each glow color will add $0.35 to your unit cost.