Ordering Pins
Types of Pins
Photo Screen Pins vs. Soft Enamel Pins
Often used for baseball world series pins or softball nationals pin, soft enamel and photoscreen pins make up about 99% of the team trading pins we make. The difference between the two styles is one of the most frequent questions we get.
* Move your mouse over the images below for a closer look.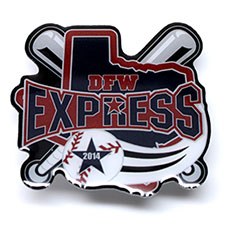 Made from stainless steel, die-cut into your design shape.
Full-color offset print graphics, suitable for great detail or even photos.
Epoxy coating to protect design, while providing a flat, smooth, shiny surface.
Approximately 0.8mm thick & 2/3 the weight of a same-size, same-shape soft enamel pin.
More quickly made than soft enamel pins, perfect for rush situation.
Most economical pin style that is suitable for trading.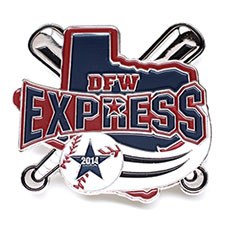 Made from die-struck iron metal by default and electroplated.
Color matching using PMS (Pantone) colors. many choices, but still limiting.
Epoxy coating is not included by default. This allows you to feel design's texture on the pin's surface.
Optional epoxy coating is free if desired, simply ask when ordering.
Approximately 1.2mm thick by default on a 1.50" pin. 50% heavier than photoscreen.
Colors are applied mostly by hand, leading to longer production times.
Small variations and minor surface imperfections are normal and characterstic of handcrafted work.